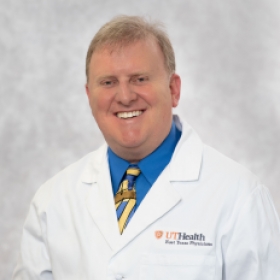 4.3 out of 5
Specialty:
Asthma, Allergy & Immunology
Physician Group:
UT Health East Texas Physicians
Practices At:
Hours:
Mon. – Fri.
8 a.m. – 5 p.m.
Dr. Sharkey has a passion for treating kids with asthma. He wants to help them manage their illness well enough to stay out of the hospital and in school. He was the major force behind UT Health's Breath of Life Mobile Asthma Clinic. Dr. Sharkey also specializes in treating children with allergies to pollen, dust, pet dander and food.
Board Certifications:
American Board of Allergy and Immunology, Allergy and Immunology, Certification
Education:
Allergy and Immunology Fellowship: The Children's Mercy Hospital, Kansas City, Mo. & Kansas University Medical Center, Kansas City Pediatric
Residency: Arkansas Children's Hospital, Little Rock
Doctor of Medicine: University of Texas Medical Branch, Galveston Undergraduate: Baylor University, Waco