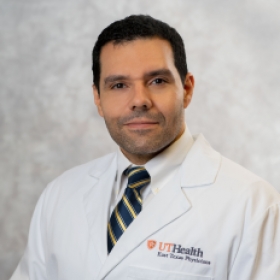 3.8 out of 5
Physician Group:
UT Health East Texas Physicians

Moises Sidransky, MD, is an interventional pain management specialist, who works at the UT Health East Texas Physicians Tyler - Pain Management. Dr. Sidransky has a unique perspective when it comes to the treatment of his patients. "Our philosophy is to treat all patients with compassion and try to improve their quality of life. As a physician, I'm very empathetic toward what they're going through because I went through about nine months when my shoulder was in severe pain from a handball injury."
His experience in overcoming that pain by physical therapy and over-the-counter medicine helped inspire his choice career. "Our goal is to minimize the amount of narcotics our patients use by taking a multidisciplinary approach to treating pain.
Dr. Sidransky offers treatments for back and joint pain, chronic regional pain syndrome, fibromyalgia and pain caused by cancer. His family is from East Texas, and he is fluent in English and Spanish, which helps him serve the Hispanic community.
Dr. Sidransky earned his bachelor's degree in biology from the University of Texas at El Paso, and his doctor of medicine from the University of Texas Southwestern Medical School in Dallas.
Board Certifications:
American Society of Anesthesiologists, Certification
American Board of Anesthesiology - Pain Medicine, Subspecialty Certification
Education:
Pain Management Fellowship: Emory University, Atlanta
Anesthesiology Resident: Louisiana State University Health Sciences Center, New Orleans
Internal Medicine Internship: Louisiana State University Health Sciences Center, New Orleans
Doctor of Medicine: The University of Texas Southwestern Medical School, Dallas
Bachelor of Science: Biology, The University of Texas at El Paso, El Paso