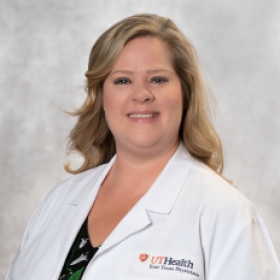 5.0 out of 5
Physician Group:
UT Health East Texas Physicians
Practices At:
Hours:
Monday-Friday, 9 a.m. to 4 p.m.
Misty Fergusson, is an AANP-certified family nurse practitioner, who sees patients of all ages. Before joining UT Health East Texas Physicians Frankston, Fergusson spent years as a nurse in the intensive care unit while working toward her master's degree. "I have a lot of nursing experience, and I've been involved with a lot of different patients and scenarios. I'm very compassionate about nursing and taking care of individuals."
Fergusson is focused on education. She teaches her patients the ways they can reduce their risk of disease, helps them understand their medications and the diagnoses of their ailments. "I love the variety. I like putting the puzzle pieces together to get patients the right diagnosis."
Her favorite part of healthcare is helping patients feel better again. "You just want to see those people get better and live healthy, full lives."
Misty also conducts Department of Transportation (DOT) Physical Exams.
Board Certifications:
American Nurses Credentialing Center, Certification
Texas Board of Nursing, Board Certification
Education:
Master of Science: Nursing, The University of Texas at Arlington
Bachelor of Science: Nursing, The University of Texas at Tyler
Associate of Science: Nursing, Tyler Junior College, Tyler
Advanced Cardiac Life Support, Certification
Basic Life Support, Certification