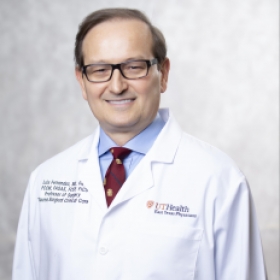 Specialty:
Trauma Surgery
Critical Care Surgery
Physician Group:
UT Health East Texas Physicians
Practices At:
Hours:
Monday - Friday
7:30 a.m. - 4:00 p.m.
Luis G. Fernandez, MD, KHS, KCOEG, FACS, FASAS, FCCP, FCCM, FICS, is a board-certified trauma surgeon who treats patients ages 6 and up at UT Health East Texas Physicians in Tyler. In addition to treating patients, he is a professor of surgery at The University of Texas Health Science Center at Tyler.
"Trauma surgery offers me the opportunity to make a difference in the lives of people who have suffered severe injuries. I am honored to be a part of our trauma team in our efforts to provide lifesaving care for our patients," he said.
Dr. Fernandez specializes in trauma and critical care surgery, with special interest in the management of the open abdomen, reconstruction of major abdominal wall defects and complex wounds and burns.
Dr. Fernandez is fluent in English and Spanish, and serves as the medical director for trauma wound care. In addition, he is well published in multiple areas of research in both peer-reviewed articles and book chapters. He has made numerous oral and poster presentations at national and international conferences.

Board Certifications:
American Board of Surgery, Board Certification
The National Board of Physicians and Surgeons, Surgery and Surgical Critical Care, Board Certification
Education:
General Surgery Residency: Northwestern University, Chicago
General Surgery Residency: University of Illinois, Chicago
Doctor of Medicine: Universidad Autonoma de Guadalajara, Mexico
Pre-Medical Studies: University of Miami, Coral Gables, Fla.
American College of Physicians, Fellow
American College of Surgeons, Fellow
American Society of Abdominal Surgeons, Fellow
Inter-American College of Physicians and Surgeons, Fellow
International College of Surgeons, Fellow
American Academy of Experts in Traumatic Stress, Fellow