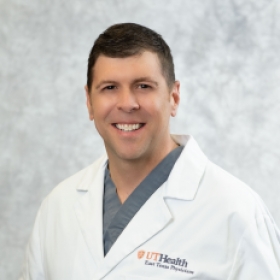 4.4 out of 5
Physician Group:
UT Health East Texas Physicians
Practices At:
700 Olympic Plaza
Ste. 600
Hours:
Monday - Thursday: 7:30 a.m. - 5:00 p.m.
Friday: 7:30 a.m. - Noon 
Jason Johnson, RNFA, FNP-C, is a certified family nurse practitioner who practices at the UT Health East Texas Orthopedic Institute. Johnson cares for patients with general and traumatic orthopedic injuries, primarily of the shoulder and elbow. "We may be working on their shoulder, but we also want the patient to do things that are healthy for their whole body. Good nutrition, exercise, good sleep habits and even healthy relationships all can aid in the healing process."
Johnson helps patients through all phases of orthopedic care, from initial clinic visits, surgery, if needed, and recovery. "I spend a lot of time educating patients about the healing process. I think it's also important to involve the people in patients' lives, so that everyone can help."
He earned his associate's degree in nursing from Panola College in Carthage and his bachelor's degree in nursing from Stephen F. Austin State University in Nacogdoches. He also earned his master's degree in nursing from The University of Texas at Tyler.
Board Certifications:
Association of Perioperative Registered Nurses, Registered Nurse First Assistant Certification
Competency and Credentialing Institute, CNOR Certified Perioperative Nursing
Basic Life Support, Instructor
Advanced Cardiac Life Support, Certification
Education:
Master of Science: Nursing, the University of Texas at Tyler
Bachelor of Science: Nursing; Stephen F. Austin State University, Nacogdoches
Associate of Science: Nursing, Panola College, Carthage