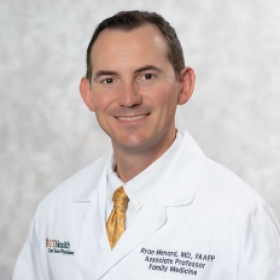 5.0 out of 5
Specialty:
Family Medicine
Weight Management
Physician Group:
UT Health East Texas Physicians
Practices At:
11937 U.S. Hwy. 271
Riter Center, 2nd floor
Hours:
Monday - Friday
8 a.m. - 5 p.m.
Dr. Menard understands the concept of patient-centered care. He listens to his patients and their concerns. Dr. Menard is a homegrown family doctor—he completed his residency in family medicine here at The University of Texas Health Science Center. An example of his compassionate care includes helping local doctors take care of evacuees from 2008's Hurricane Ike. Dr. Menard is also certified in Obesity Medicine and conducts a Weight Management clinic at the North Campus Tyler. 
Blogs Written by Dr. Menard

Board Certifications:
Family Medicine
Obesity Medicine