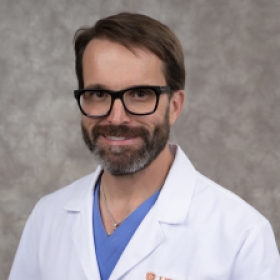 Physician Group:
UT Health East Texas Physicians
Practices At:
1100 E. Lake St., Ste. 150
Hours:
Monday - Friday
8 a.m. - 5 p.m.
Hours:
CVICU
10 a.m. - 12 p.m.
4 p.m. - 6 p.m.
8 p.m. - 9 p.m.
2WB, 3WB and 3WC ICUs
10 a.m. - 6 p.m.
8 p.m. - 6 a.m.
Closed 6 a.m. - 10 a.m. & 6 p.m. - 8 p.m. for personal care
General visiting hours
6 a.m. - 9 p.m.
Hugh P. Babineau, MD, FACS, FASMBS, is a bariatric surgeon who practices at UT Health East Texas Physicians in Tyler. "For most patients with obesity and related conditions, bariatric surgery remains the most effective intervention for improving their overall health."
Board certified in general surgery, Dr. Babineau performs sleeve gastrectomy and gastric bypass surgeries and directs the UT Health Tyler Bariatric Center. He also specializes in other advanced laparoscopic surgeries, including hiatal hernia repair, ventral hernia repair and splenectomy.
His personal interests include cycling, walking his dogs, playing tennis, teaching Sunday school to kindergarteners and serving on the board of directors for Hope Haven of East Texas.
Board Certifications:
American Board of Surgery, Board Certification
Education:
General Surgery Residency: Mary Imogene Bassett Hospital, Cooperstown, N.Y.
Doctor of Medicine: University of Rochester School of Medicine and Dentistry, Rochester, N.Y.
Bachelor of Arts: Computer Science
American Society for Metabolic and Bariatric Surgery, Fellow
American College of Surgeons, Fellow