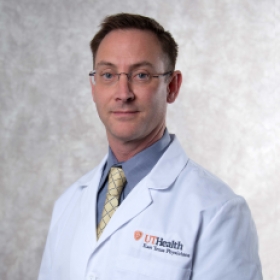 Specialty:
Family Medicine
Urgent Care
Physician Group:
UT Health East Texas Physicians
Practices At:
Hours:
Monday - Friday
8 a.m. - 6 p.m.
Saturday
8 a.m. - Noon
Walk-ins Welcome!
Dr. McMullen sees patients newborn and older.
Other providers see 6 months of age and older.
David Stephens, APRN, FNP-C, is a family nurse practitioner at UT Health East Texas Physicians in Mineola. His goal is to provide the highest quality of care for his patients and his community. "I have always enjoyed caring for people and making them happy. It wasn't until I was in the Army that I started wanting to pursue a career in healthcare."
Stephens enjoys the fast-paced setting of urgent care with a little bit of primary care thrown in. "I learned in school that I really enjoy working in the clinic setting - primary care and urgent care. I enjoy caring for the pediatric population as well."
Stephens enjoys spending time with his family by going to theatrical plays, movies, and other events. He also enjoys running with his son.
Board Certifications:
Texas Board of Nursing, Certification
Basic Life Support. Certification
Education:
Master of Science: Nursing, The University of Texas at Arlington
Bachelor of Science: Nursing, the University of Texas at Arlington
Associate of Nursing: Tyler Junior College
Associate of Psychology: Southwestern Assemblies of God University, Waxahachie