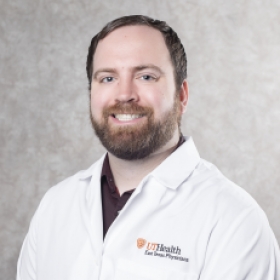 Physician Group:
UT Health East Texas Physicians
Practices At:
Hours:
Monday - Friday
8 a.m. to 5 p.m.
Brandon Van Deman, APRN, FNP-C, is a family nurse practitioner at UT Health East Texas Physicians in Lindale who sees patients 6 months and older. He is passionate about helping others, which made healthcare a natural career path.
"I want to help and motivate people to have the best health possible by acknowledging each patient's individuality. I strive to educate my patients and their families while promoting a healthcare environment that is therapeutic and respectful to all human beings," Van Deman said.
Van Deman chose to focus on family medicine because he enjoys seeing a wide variety of patients for different needs. He also provides care for chronic conditions like hypertension and diabetes while educating his patients about preventive healthcare. "I believe that the best way to deal with a problem is to try and avoid a problem from occurring altogether, and that mindset carries over to the primary care setting."
Education:
Master of Science: Nursing, The University of Texas at Tyler
Bachelor of Science: Nursing, The University of Texas at Tyler
American Academy of Nurse Practitioners, Certification
American Association of Nurse Practitioners, Member
American Nurses Association, Member
Texas Nurses Association, Member