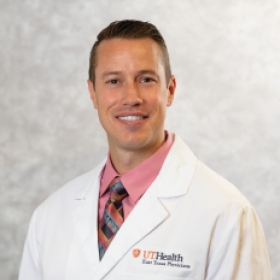 Physician Group:
UT Health East Texas Physicians
Practices At:
700 Olympic Plaza
Ste. 100
Hours:
Monday - Friday
8 a.m. - 5 p.m.
Hours:
CVICU
10 a.m. - 12 p.m.
4 p.m. - 6 p.m.
8 p.m. - 9 p.m.
2WB, 3WB and 3WC ICUs
10 a.m. - 6 p.m.
8 p.m. - 6 a.m.
Closed 6 a.m. - 10 a.m. & 6 p.m. - 8 p.m. for personal care
General visiting hours
6 a.m. - 9 p.m.
Brandon Ashton, MD, DABR, is a board-certified radiologist who specializes in breast imaging at the UT Health East Texas Breast Care Center. "I believe everyone should receive VIP treatment. I care for my patients in the same manner I want my own family members to be treated."
Dr. Ashton works with his patients to identify and prevent breast cancer. "The most important message I share is that all women with average risk for breast cancer should have yearly screening mammograms beginning at age 40. This strategy saves the most lives, and enables us to find cancers at the earliest and most treatable stage."
Dr. Ashton earned his bachelor's degree in zoology from Weber State University in Ogden, Utah, and his doctor of medicine from the University of Texas Medical Branch in Galveston. In addition, he completed his diagnostic radiology residency at the Scott & White Medical Center in Temple and his breast imaging fellowship at the Vanderbilt Medical Center in Nashville, Tennessee.
His personal interests include water skiing, wakeboarding and basketball.
Board Certifications:
American Board of Radiology, Diplomate
Education:
Breast Imaging Fellowship: Vanderbilt Medical Center, Nashville, Tenn.
Diagnostic Radiology Residency: Texas A&M College of Medicine, Scott & White Medical Center, Temple, Texas
Doctor of Medicine: University of Texas Medical Branch, Galveston, Texas
Society of Breast Imaging, Member
Texas Radiological Society, Member
Radiological Society of North America, Member
American College of Radiology, Member
American Roentgen Ray Society, Member
Gold Humanism Honor Society, Member
Texas Medical Association, Member
American Medical Association, Member
American Society of Emergency Radiology, Member