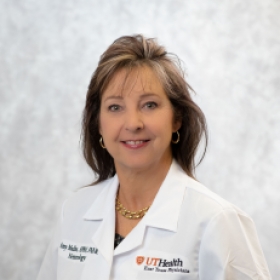 Physician Group:
UT Health East Texas Physicians
Practices At:
700 Olympic Plaza
Ste. 904
Hours:
Monday - Friday
8:00 a.m. - 5:00 p.m.
Amy George is a board-certified family nurse practitioner at the UT Health East Texas Neurological Institute where she cares for patients with Parkinson's disease, essential tremor and other movement disorders. She takes great pride in the facility and what they offer. "We have really high effectiveness. It's amazing, some of the stuff we do."
She knows the importance of communication. "I try to develop a relationship where I'm 100 percent approachable - there's nothing you can't ask me." The most rewarding part of her work? "Watching people be more comfortable in their human shell - in their body."
Board Certifications:
American Nurses Credentialing Center, Board Certification
Advanced Cardiac Life Support, Certification
Geriatric Nurse Generalist, Certification
Dementia Care and Staff Education, Certification
Education:
Master of Science: Nursing, Southeast Missouri State University, Cape Girardeau, MO
Bachelor of Science: Nursing, Central Methodist University, Fayette, MO
Associate of Science: Nursing, Mineral Area College, Park Hills, MO
Texas Nurse Practitioners, Member and Speaker