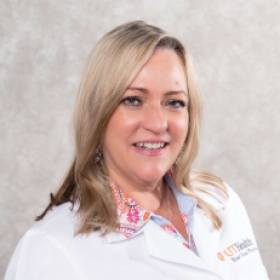 Physician Group:
UT Health East Texas Physicians
Practices At:
2210 Three Lakes Parkway
Ste. 100
Hours:
Monday - Friday 
7:30 a.m. to 5 p.m.
Amie Bevis, APRN, FNP-C, is a family nurse practitioner at UT Health East Texas Physicians on Three Lakes Parkway in Tyler. She believes in caring for her patients in the same way she would want her family to be treated. "I care for patients with kindness, compassion and humor. I have created very special relationships with patients and their families during my 15-year career as a pediatric nurse. I want to continue creating special relationships during my career as a nurse practitioner," she said.
Providing care for patients of all ages, including well-baby visits through Medicare wellness visits, will be her focus. She also is interested in women's health. "By building trust, I will be able to provide healthcare that focuses on the patient's well-being through health promotion, education and counseling. This will help them make health and lifestyle choices that improve their quality of life." Additionally, she is a strong proponent of vaccination. "I want to educate patients on the importance of vaccines in children and adults."
When not treating patients, she enjoys shopping, decorating, watching old movies and eating out. She also has a passion for cars, especially fast ones. "I love driving them, going to car shows and watching them race." She and her family are actively involved in their church, as well.
Board Certifications:
American Association of Nurse Practitioners
Education:
Master of Science: Nursing, Walden University,Minneapolis
Bachelor of Science: Nursing, Walden University, Minneapolis
Associate of Nursing: Tyler Junior College
Sigma Theta Tau International Honor Society, Member
American Association of Nurse Practitioners, Member