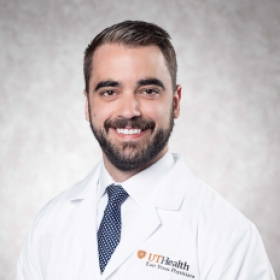 Specialty:
Sports Medicine
Physical Medicine & Rehabilitation
Practices At:
700 Olympic Plaza
Ste. 503
Alexander Jacobsen, DO, is a physiatrist and sports medicine physician at the UT Health East Texas Orthopedic & Sports Medicine Institute in Tyler. Dr. Jacobsen sees patients of all ages and has a special interest in stroke, brain injury, joint pain management and prosthetic medicine.
Dr. Jacobsen got into healthcare because his father is a physician and his mother is a nurse, and he grew up seeing the pride they took in helping people. He has a unique reason for choosing his specialty. " My uncle, long ago, suffered a spinal cord injury and became tetraplegic in a wheelchair, but remained active in wheelchair sports and verious community projects," he said. "Combining the passion I witnessed for healthcare and the experiances withing the adaptive sporting community, I found PM&R and sports medicine the perfect fit." 
"Physiatry is the specialty of function. No matter where someone is starting from -- an ankle sprain, a broken arm, a stroke or a spinal cord injury -- helping people achieve their functional, sport or independence goals is what brings me joy," he said. "In combination with my sports medicine training, I enjoy taking a broad holistic approach to treatment strategies that can include exercise or activity coaching, dietary changes, supplementation, medications, bracing or interventional procedures."
In his spare time, Dr. Jacobsen is spending time with his wife and three daughters. He enjoys all things outdoors including hunting, fishing and hiking. He has trained and competed in various sports including powerlifting, bodybuilding, Muay Thai and Brazilian Jiu Jitsu. He  also loves music and plays a number of instruments including guitar, mandolin, piano, and even trumpet in the Jazz band at Texas Christian University. 
Education:
Fellowship: Sports Medicine, The University of Texas at Tyler Health Science Center
Residency: Physical Medicine and Rehabilitation, University of Nebraska Medical Center
Doctor of Osteopathic Medicine: University of North Texas Health Science Center, Texas College of Osteopathic Medicine
Bachelor of Science: Texas Christian University