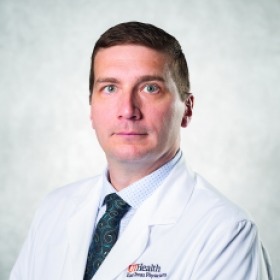 Practices At:
700 Olympic Plaza
Ste. 600
Hours:
Monday - Thursday: 7:30 a.m. - 5:00 p.m.
Friday: 7:30 a.m. - Noon 
Adrian Butler, MD, is a board certified orthopedic and hand surgeon at the UT Health East Texas Orthopedics and Sports Medicine Institute in Tyler. He specializes in the care of the hand and upper extremities including the shoulder, elbow and wrist. Dr. Butler also provides fracture care, joint replacement, ligament repair/reconstruction and care of complex injuries involving the hand and arm.
"My involvement into healthcare was a natural progression," he said. "Growing up, I was always fascinated by science. I tried to learn as much as I could and always enjoyed working with my hands. When I injured my shoulder in middle school was when I first learned about orthopedic surgery. My high school was not far from the Indiana Hand Center, and I was fortunate enough as a high school student to spend some time there. Reflecting on this time, I believe this is where my affinity for hand surgery began."
When not treating patients, he enjoys cycling, fishing, boating, golf, traveling and spending time with his family and dogs.
Board Certifications:
American Board of Orthopaedic Surgery, Board Certification-Orthopaedic Surgery
American Board of Orthopaedic Surgery, Subspecialty Certification-Surgery of the Hand
Education:
Fellowship: Hand Surgery, Thomas Jefferson University/The Philadelphia Hand Center
Residency: Orthopedic Surgery, Allegheny General Hospital/Drexel University, Pittsburg
Doctor of Medicine: Indiana University School of Medicine, Indianapolis
Bachelor of Science: Indiana University, Bloomington
America's Top Orthopedists, Consumer Research Council of America, Recipient
American Society for Surgery of the Hand, Member
American Association for Surgery of the Hand, Member
American Academy of Orthopedic Surgeons, Member