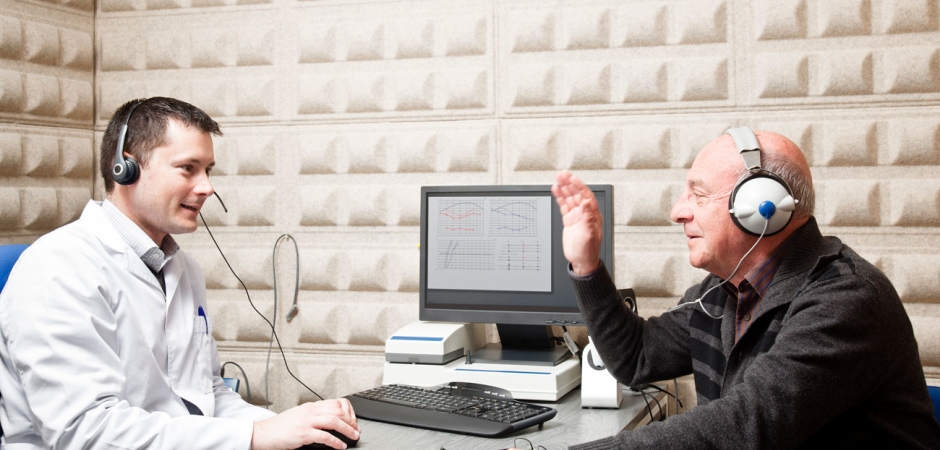 UT Health's audiologists provide complete hearing services for all ages. From diagnosis to fitting you with the right hearing aids our mission is to provide the highest quality care your  needs.
After a hearing loss diagnosis
Nine out of 10 hearing loss patients experience sensorineural or mixed hearing loss and will benefit from the use of hearing aids. Your audiologist may decide you could benefit from hearing aids as part of your comprehensive treatment plan.
If so, you'll want to choose a pair that not only addresses your specific hearing needs, but is also appropriate for your lifestyle (how active/social you are), is cosmetically appealing and is within your budget. There is no one-size-fits-all option when it comes to hearing devices.
There is a wide range of choices available. Choosing a hearing aid can be an overwhelming task, but your audiologist is happy to help you through the process.
Schedule a consultation to discuss what is right for you.
Hearing aids
Our hearing aid pricing is a form of "unbundled" pricing in which fees are detailed. This plan provides clear, understandable pricing and transparency in your fitting process. You invest in your hearing aids and initial care, then ongoing services are paid as you receive them.
In this model, the total cost includes the device(s) and the first month of evidence-based professional services plus initial supplies. After your adjustment period, you will pay for your services and supplies as you go, or you can purchase an optional service plan.
Price varies depending on whether you use one aid or two, your lifestyle and the features you desire. We offer different levels of technology ranging in price from $1,500 to $3,600. We carry a variety of hearing aid brands to help you find the right fit for you.
To learn more about commonly treated conditions and procedures, click the boxes below.
See the right-hand column to find a location near you.