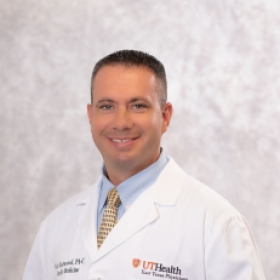 Schedule Online
Review Score:

Physician Group:
UT Health East Texas Physicians
Robert Eastwood, PA-C, is a certified physician assistant at UT Health East Texas Physicians in Carthage who believes patients are "an extended part of our medical team.
"I am just giving them the tools to improve their health, but they're the ones who have to do the work. The outcomes tend to be better when you take a collaborative approach and involve patients in their care."
He enjoys rural healthcare because it allows him time to sit down, talk to his patients and establish a rapport. "You get to know a wide variety of people of all ages and treat everything from the flu to heart disease."
Board Certifications:
National Commission on Certification of Physician Assistants, Certification
Education:
Master of Physician Assistant Studies: Louisiana State University Health Shreveport, Shreveport, La.
American Academy of Physician Assistants, Fellow